Fellow Lost Ruffians! (Get it? 'Cause we're NOWHEREBOUND!) There's your cheese…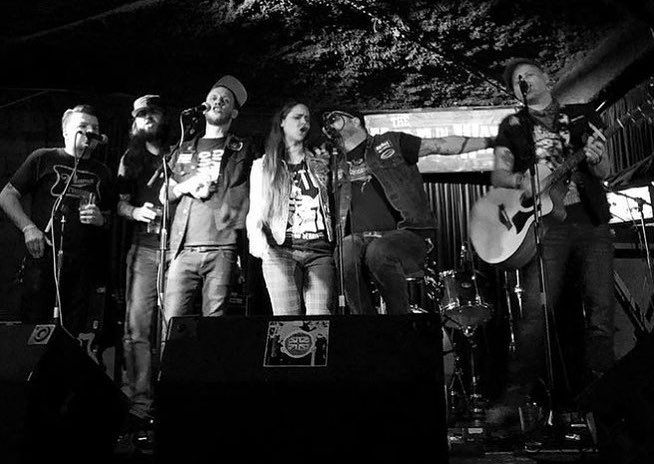 Chelsea here. I recently fell off the face of the earth (no, I don't believe it's flat) due to ridiculous amounts of recording, working, playing and life stuff. We finished the recording part of the album some time ago, and Clint has been hard at work mixing and bouncing. Mixing and bouncing. Mixing…. and….bouncing. The end of the road is still out of sight, but the wait will be so incredibly worth it. That is a promise from yours truly.
We've been really enjoying practicing these new songs and getting them stage ready. We've had a little live practice, too. This past weekend we hosted, organized and played a Beto for Senate Fundraiser. Here in Texas, we're getting ready for a senatorial election and Beto is the guy we back. It hasn't necessarily been the easiest road for me, this being my first experience being so politically open as an artist. I wasn't always active in Nowherebound, for those who may not know. I went down my own rabbit trail for a few years…. but that's another story for another time. Needless to say the nay sayers are outspoken and not modest by any means, but I'm no martyr. I'm proud of my boys for standing up tall and with a smile. I felt like it was handled with the utmost respect and dignity, and I was truly humbled by the whole damn thing. All in all, it was a two day event that left me swimming in warm and fuzzies. All the bands that participated kicked major ass. I got to meet SO MANY people who feel the same way we do about wanting to not only believe in change, but DO something about it.  We had several companies that donated items to the raffle we held as well. Check down below for a full list of everyone that participated! We'd love to continue to support these bands and companies for being a part of something that is very near and dear to our hearts.
Apart from that, we're gearing up for our next go around which happens to be my 30th birthday! That'll be at Kick Butt here in Austin in support of one of our favorites, Sniper 66. They're releasing a kick ass album and I can't wait to be a part of such a special night. We're going to continue working hard to get this new music to you as soon as we can, and we hope this post reaches you well.
It's so crazy how even just writing about my love of these people makes me a little teary eyed. I wouldn't be the empowered, strong, bold, and fearless woman I am without each and every one of these amazing punk rockers in my life. Whether or not you believe in being outspoken politically or otherwise, there's one thing I'd like to define. As far as I'm concerned, punk is not just a genre of music. It's a way of life. It's about equality, compassion, empathy, human rights, belief in our ability to be the change, and above all… LOVE. I was so proud when my best friend got up on stage to do his solo set on Saturday afternoon, and his political rant consisted of something along the lines of: It doesn't matter which side of the political spectrum you fall on, or which side you think is right or wrong. It's about waking up every morning and being the best version of yourself. Well said, Jacob. I think that hits the nail right on the head.
Sorry, but not sorry for getting a little mushy and opinionated. I guess that's the beauty of being in charge of writing the blog. I get to do what I want! Comment below and tell us how you've been. Because we aren't Nowherebound without our family, friends and fans. We need you as much as you want us around. And we love you.
From hearts the size of Texas,

Participants of our Beto for Senate Fundraiser include:
Bands:
The Last Callers
All Opposed
The Awful Lot
Sorted Scoundrels
Knocked Out Stiffs
Black Irish Texas
Natchet Taylor and Erik Larson
Chelsea Barbo
Jacob Pruitt
Blake Van Buren
Mary Beth
Hazard of the Industry
Erik Larson and Peacemaker
Shitty Advice
The Clastic
Hellfury
Zero Percent
Despero
Disko Wolves
Companies:
Kick Butt
Sundaze
Via 313
Suite 2E Recording Studio
Hard Luck Lounge
White Horse
Hole In The Wall
BK Artistry
Rosewood Barbershop